Mid-Century Catholic Schools and the Diocese of Brooklyn Campaign
In January 1960, the Roman Catholic Diocese of Brooklyn (but encompassing both Brooklyn and Queens) launched a major capital campaign to raise funds to build five new Diocesan High Schools and rehabilitate an existing Brooklyn building into the Madonna Residence for the elderly.
Three of the high schools were constructed in Queens and two in Brooklyn. The plan was to create capacity for an additional 10,000 students. According to the campaign literature, of the 21,000 students graduating from parochial schools in the two boroughs, the Catholic secondary schools could only accommodate 7,500 of these students before the expansion.
Under the leadership of Bishop McEntegart, the campaign had raised $25 million by September 1961, more than $33 million by June 1962, and $38,400,000 by May 1963 with an estimated $37 million in building costs. In 1963 the campaign had largely ceased active fundraising, with all seven projects complete.
Of the Diocesan High Schools, all three in Queens were honored by the Chamber of Commerce Building Awards: Mater Christi High School in Astoria (1962), Bishop Edmund J. Reilly High School in Fresh Meadows (1963), and Christ the King High School in Glendale (1963).
Stickle & Associates, a Cleveland-based firm prolific in the design of all manner of Catholic churches, schools, and related buildings, was responsible for both Mater Christi and Christ the King, as well as Bishop Ford High School in Brooklyn, a new project added later due to the success of the campaign. Bishop Reilly was designed by Eggers & Higgins, a well-known New York-based firm that had grown out of the office of John Russell Pope.
All six buildings still exist today in various states of use. Almost all of the Diocesan high schools were closed and reopened in the 1970s. Bishop Reilly closed in 1973 and reopened as St. Francis Prep in September 1974. By 1977, 8 of the 10 Diocesan high schools had been transferred to local lay boards, including those in Queens. Today, all three Queens high schools still exist, in some form, Bishop Reilly as St. Francis Prep, Mater Christi as St. John's Prep, and Christ the King under its original name.
Not all the Catholic schools awarded throughout the 1950s and 60s by the Chamber of Commerce were part of the Diocesan campaign. Archbishop Molloy High School in Briarwood, named for Bishop McEntegert's predecessor predates the Diocese's campaign. It was completed in 1957 to designs by Henry V. Murphy, a favorite architect of the diocese. Murphy died in 1960 and so would not have been considered to design any of the new campaign-funded buildings, but Beatty & Berlenbach, a firm of longstanding involvement within the Catholic church and school building industry in New York, did do the redesign of the Madonna residence.
Most of the other Catholic schools built were new parish schools and tended to be significantly smaller than the Diocesan ones. Many of the Catholic diocese's preferred architects worked on these projects such as William Boegel and George Masumian, but they may not have been seen as high profile for national firms like Eggers & Higgins and Stickle & Associates.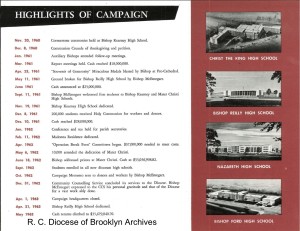 Sources:
All information courtesy of the Diocese of Brooklyn Campaign Collection of the Roman Catholic Diocese of Brooklyn, Diocesan Archives. All images except where noted copyright of the Roman Catholic Diocese of Brooklyn, Diocesan Archives.